Printer-friendly format
FOR IMMEDIATE RELEASE
CONTACT: Cathy Renna, cathy@targetcue.com, 917-757-6123
"Gay Pioneers" Screening At CIA, Langley
National LGBT 50th Anniversary Celebration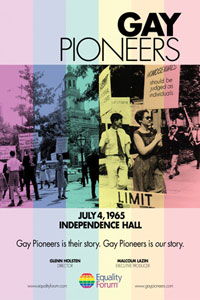 Philadelphia, PA, June 22, 2015 - Organizers of the National LGBT 50th Anniversary Celebration today announced a screening of the documentary Gay Pioneers at the Central Intelligence Agency on June 25th, 2015, followed by a panel discussion. The panel includes Eliza Byard, Executive Director, GLSEN, Malcolm Lazin, Gay Pioneers Co-Executive Producer, and Michael Long, Ph.D, editor, Gay is Good: The Life and Letters of Gay Rights Pioneer Frank Kameny.
Said Malcolm Lazin, Chair, National LGBT 50th Anniversary Celebration: "When Frank Kameny, Barbara Gittings and other organizers demonstrated at Independence Hall, our federal government under presidential executive order would not employ a gay or lesbian American. When that prohibition was lifted in 1973 through the efforts of Frank Kameny, gay people were considered a security threat and could not obtain security clearance. When President Clinton removed that restriction, Congress passed legislation that prohibited gay men, lesbians and bisexual Americans from serving openly in the military. With the repeal of Don't Ask Don't Tell, signed by President Obama in December 2010, workplace discrimination by the federal government was finally eliminated."
Lazin continued: "To screen Gay Pioneers at the CIA at Langley makes a powerful statement about federal workplace progress over the past 50 years."
About Gay Pioneers:
Gay Pioneers is a documentary co-produced by WHYY/PBS and Equality Forum about the start of the organized LGBT civil rights movement with Annual Reminders each July 4th from 1965 to 1969 at Independence Hall. The Annual Reminders were the first time that activists from more than one city demonstrated; the first time the demonstrations were about equality rather than around an issue and the first time the demonstrations were repeated and sustained.
The Gay Pioneers documentary was broadcast nationwide on PBS and screened at film festivals nationally, annual national meetings, colleges and LGBT organizations as well as distributed to over 5,000 high school and college GSAs.
The organized LGBT civil rights movement was galvanized when activists from New York, Washington, D.C., and Philadelphia staged demonstrations at Independence Hall for equality each Fourth of July from 1965 to 1969. When 40 activists picketed in front of Independence Hall in 1965, it was the largest demonstration for gay equality in world history.
Organized by Frank Kameny and Barbara Gittings, the father and mother of the LGBT civil rights movement, these "Annual Reminders" laid the groundwork for the Stonewall riot in 1969. After Stonewall, the Gay Pioneers suspended the Annual Reminders and turned their energies to help organize the 1970 march from Greenwich Village to Central Park marking the first anniversary of Stonewall.
From July 2 to 5, in Philadelphia, the National LGBT 50th Anniversary Celebration includes panels, "Gay Pioneers" screening, fireworks, daily parties, six LGBT history exhibits, concerts, National Interfaith Service, wreath laying at the Gay Pioneers historical marker, and a street festival in the gayborhood with the highlight the one-hour National LGBT 50th Anniversary Ceremony on a large stage in front of Independence Hall on July 4th with Wanda Sykes as the Master of Ceremonies.
There is no registration fee and most programs are free.
For more information, visit www.lgbt50th.org and www.gaypioneers.com.