Printer-friendly format
FOR IMMEDIATE RELEASE
CONTACT: Cathy Renna, cathy@targetcue.com, 917-757-6123
Amanda Simpson To Participate In National LGBT 50th Anniversary Ceremony – Highest Ranking Transgender Federal Employee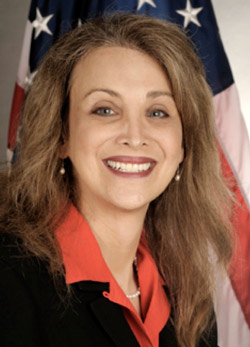 May 26, 2015, Philadelphia, PA - Organizers of the National LGBT 50th Anniversary Celebration announced that Amanda Simpson, America's first openly transgender presidential appointee, will attend the National LGBT 50th Anniversary Ceremony on July 4th at Independence Hall. Simpson currently serves in the U.S. Commerce Department.
Said Malcolm Lazin, National LGBT 50th Anniversary Chair: "It is an honor to have Amanda Simpson, the highest ranking transgender federal employee, participate in the National LGBT 50th Anniversary Ceremony. Amanda will be the lead-in presenter for 50 years of LGBT civil rights progress."
Simpson is the Executive Director of the U.S. Army Office of Energy Initiatives. A defense industry veteran, Simpson is originally from Tuscon, Arizona and was appointed by President Obama to the Department of Commerce's Bureau of Industry and Security as a senior technical advisor in 2010. She has worked in the aerospace and defense industry for over 30 years, serving as Deputy Director in Advanced Technology Development at Raytheon Missile Systems prior to her appointment by the President. She holds degrees in physics, engineering and business administration, and is a certified flight instructor and test pilot.
The organized LGBT civil rights movement was launched when activists from New York, Washington D.C., and Philadelphia staged demonstrations for equality at Independence Hall each Fourth of July from 1965 to 1969. When 40 activists first picketed in front of Independence Hall on July 4, 1965, it was the largest demonstration for gay equality in world history.
Organized by the father and mother of the LGBT civil rights movement, Frank Kameny and Barbara Gittings, these "Annual Reminders" laid the groundwork for the Stonewall riot in 1969. After Stonewall, the Gay Pioneers suspended the Annual Reminders and helped organize the 1970 march from Greenwich Village to Central Park for the first anniversary of Stonewall.
From July 2 to 5, in Philadelphia, the National LGBT 50th Anniversary Celebration includes panels, Gay Pioneers screening, fireworks, daily parties, six LGBT history exhibits, concerts, National Interfaith Service, wreath laying at the Gay Pioneers historic marker, and street festival in the gayborhood with the highlight the one-hour National LGBT 50th Anniversary Ceremony on a large stage in front of Independence Hall on July 4th.
There is no registration fee and most programs are free.
For more information, visit www.lgbt50th.org and www.gaypioneers.com