National Interfaith Service
Friday, July 3, 4:00 pm - 5:00 pm
Christ Church
20 North American Street
Philadelphia, PA 19106
MAP
FREE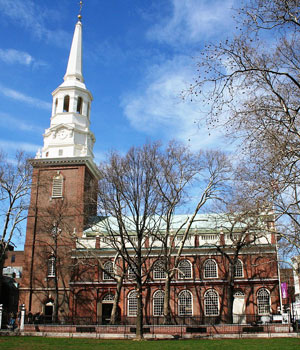 Historic Christ Church
Sermon by Bishop Gene Robinson
Founded in 1695, Christ Church was the first parish of the Church of England in Pennsylvania and the birthplace of the American Episcopal Church. Known as "The Nation's Church," its congregants included George Washington, Benjamin Franklin, Betsy Ross and John Adams. Five signers of the Declaration of Independence are among the many notable patriots and prominent individuals who are interred in the church's burial grounds.

ORDER OF WORSHIP

Bell Prelude
Catherine Conybeare
Organ Prelude
Lucas Brown
Processional Hymn 390
Found in the Blue Hymnal Lobe den Herren
Greeting
The Rev. Tim Safford, Rector
Christ Church, Philadelphia
Prayer
The Rev. Jeff Jordan-Pickett
Metropolitan Community Church, Philadelphia
Choral Selection
Rabbi Margot Stein
Reconstructionist Rabbinical College
"Proclaim Liberty Throughout the Land" *
Prayer
Tynan Power
Muslim Alliance for Sexual and Gender Diversity
Remarks

Rabbi Linda Holtzman
Reconstructionist Rabbinical College

Sermon
Bishop Gene Robinson
Ninth Episcopal Bishop of New Hampshire and
Senior Fellow, Center for American Progress, Washington, D.C.
Choral Selection
Jonathan Allen
Ave Maria, Franz Schubert
Benediction
The Rev. Susan Richardson
Assistant Minister, Christ Church Philadelphia
Closing Hymn 379
Found in the Blue Hymnal Abbot's Leigh
Organ Postlude
Lucas Brown
Bell Postlude
Catherine Conybeare
*Composed for this occasion using the Hebrew phrase "tzedek, tzedek tirdof," meaning "justice, justice shall you pursue."
The Warmest Welcome to You!
The people of Christ Church believe deeply that "Whoever you are and wherever you find yourself on the journey of faith, you are welcome at Christ Church, as you are, to receive the blessings of God so freely given." We are open and affirming, diverse and loving, and welcoming to all those seeking a deeper relationship with God. We stand with the LGBT community for full inclusion in the Episcopal Church and for equal rights in civil society. Join us for services, Sundays at 9 and 11 am.
Make Them Hear You

From "Ragtime,"
Lynn Ahrens/Stephen Flaherty
Go out and tell our story, let it echo far and wide, make them hear you. How that justice was our battle and how justice was denied, make them hear you.

And say to those who blame us for the way we chose to fight that sometimes there are battles which are more than black or white, and I could not put down my sword when justice was my right. Make them hear you.

Go out and tell our story to your daughters and your sons, make them hear you. And tell them, in our struggle we were not the only ones, make them hear you.

Your sword can be a sermon or the power of the pen to teach every child to raise his voice, and then, my people, then will justice be demanded by ten million righteous ones! Make them hear you! When they hear you, I'll be near you again!

Jonathan Allen made his television debut on "America's Got Talent" 2013 - Season 8. Since then, the operatic singer has been featured in magazines, on talk shows and on radio broadcasts. He has made numerous appearances since his departure from "America's Got Talent" and is writing and producing his first album. Allen came out at age 15. His parents were not supportive, and he was forced to move out at age 18 with just the clothes on his back. Shortly thereafter, he found his way to a musical career.

Rabbi Linda Holtzman is the adjunct associate professor of practical rabbinics at Reconstructionist Rabbinical College and the rabbi of Mishkan Shalom in Philadelphia. Before that, she led Beth Ahavah, an LGBT congregation in Philadelphia. She is one of the first women in the United States to serve as the presiding rabbi of a synagogue and the first female rabbi to give a keynote speech for the World Congress of Gay and Lesbian Jews. She wrote "Struggle, Change and Celebration: My Life as a Lesbian Rabbi" in the book "Lesbian Rabbis: The First Generation" (Rutgers University Press, 2000) and "Jewish Lesbian Parenting," a chapter in "Twice Blessed" (Beacon Press, 1989).

The Reverend Jeffrey H. Jordan-Pickett
The Rev. Jeffrey H. Jordan-Pickett leads the Metropolitan Community Church of Philadelphia (MCCP). A West Virginia native, he moved to Pennsylvania after being outted and defrocked by the then bishop of the 3rd Episcopal district of the African Methodist Episcopal Church. MCCP installed him as pastor in 1994. He serves on the Universal Fellowship of MCC's HIV Advisory Board and on the Philadelphia Police LGBT Liaison Committee.

Tynan Power is a transgender progressive Muslim faith leader, writer and educator. He is the former co-coordinator of the Muslim Alliance for Sexual and Gender Diversity (MASGD) and serves on the organization's steering committee. He is the founder of Pioneer Valley Progressive Muslims/Jami'at al-Inshirah in Northampton, Massachusetts, and a member of the U.S. Department of State Working Group on Religion and Foreign Policy. As a religious leader, he is committed to nonsectarian community building and full inclusion of women, LGBTQ individuals and others who are often excluded from congregational life or leadership.

The Reverend Susan Richardson
The Rev. Susan Richardson is assistant minister of Christ Church. She was ordained there in 2006. The Rev. Richardson works with all the ministries of Christ Church, including integrating the LGBT community into all aspects of faith life and presiding at same-sex marriages. She is a mother, a teacher of world religions, and a blogger about spirituality and the workplace for WHYY's Newsworks.org.

Gene Robinson is the first priest in an openly gay relationship to become an Episcopal bishop. His controversial appointment and ordination created a schism in the faith, led by its conservative members. Robinson has co-authored AIDS education curricula, done AIDS work in the United States and Africa, and has lobbied for LGBT civil rights and marriage equality. He is the subject of two feature-length documentaries and the author of two books. His most recent, "God Believes in Love: Straight Talk About Gay Marriage," was published in 2012. Robinson has been honored by numerous LGBT organizations, including the Human Rights Campaign and the National Gay and Lesbian Task Force.

The Reverend Timothy Safford
Since 1999 the Reverend Timothy Safford has served as the 19th rector of historic Christ Church in Philadelphia. Throughout his 30-year ministry, he has dedicated himself to outreach and social transformation, including work with the homeless, refugees and people with AIDS. He has been an activist and organizer within the Episcopal Church for LGBT civil rights and marriage equality, performing the first blessing of a same-sex couple at Christ Church in 2003. He received the Lawrence J. Mikkelsen Preaching Prize for his sermon on the Gospel, social justice and human dignity.

Rabbi Margot Stein is an adjunct instructor in music and liturgy at the Reconstructionist Rabbinical College and is High Holy Days cantor at Philadelphia's Mishkan Shalom. She has co-produced seven albums of original Jewish music and performs with her female a cappella trio, MIRAJ, and her rabbinical troupe, Shabbat Unplugged. Her liturgical compositions have won awards from Shalshelet: The International Festival of New Jewish Liturgical Music and from BMI's Mid-Atlantic Song Contest. They have been published in numerous prayer books and covered on albums. She serves on the boards of several Jewish organizations committed to inclusion, pluralism and diversity.