Printer-friendly format
FOR IMMEDIATE RELEASE
CONTACT: Cathy Renna, cathy@targetcue.com, 917-757-6123
"Gay Pioneers" Screening And Panel Discussion At LGBT 50th Anniversary Celebration. Historians, Advocates Join To Discuss Foundational LGBT History.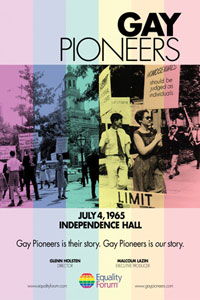 MARCH 23, 2015, Philadelphia, PA - The organizers of the 50th Anniversary Celebration of the lesbian, gay, bisexual and transgender civil rights movement today announced the addition of a panel of eminent LGBT historians moderated by author, advocate and LGBT history expert Eric Marcus. The panelists are Eliza Byard, Malcolm Lazin, Michael Long, PhD., and Marc Stein, PhD. The panel will be held following a screening of the award-winning documentary "Gay Pioneers" on Friday, July 3rd, 2015 at WHYY, the Philadelphia PBS and NPR affiliate.
"Gay Pioneers" is about the first organized annual "homosexual" civil rights demonstrations held at Independence Hall from 1965-69. When few would publicly identify themselves as gay, these brave pioneers challenged pervasive homophobia. The 50th Anniversary celebration, July 2 to 5, commemorates and celebrates these Annual Reminders, made up of New York City, Washington D.C., and Philadelphia activists who organized the first sustained protest demanding LGBT equality.
On July 4, 1965, forty (40) people carried signs in front of Independence Hall supporting gay emancipation. Each Annual Reminder, their numbers grew. By July 4, 1969, days after Stonewall one hundred and fifty (150) people demonstrated at Independence Hall. The Annual Reminders were suspended as the activists marshaled their efforts to organize the first anniversary of the Stonewall Riots. That led to the then largest gathering for gays and lesbians when between two to five thousand people marched from Greenwich Village to Central Park. The 1970 march is remembered as the first New York gay pride parade.
"Gay Pioneers" was produced by PBS affiliate WHYY and Equality Forum. The film weaves together archival footage from these seminal demonstrations; FBI investigative files obtained under the Freedom of Information Act; Gay Pioneer interviews about the homophobia of that era, the protocol for the demonstrations and how those demonstrations impacted the movement and concludes with Gay Pioneers Barbara Gittings, Frank Kameny and Lilli Vincenz on-camera in 2004 discussing same-sex marriage.
MORE INFORMATION:
WHAT: screening of "Gay Pioneers" followed by panel discussion
WHEN: Friday, July 3, 2015 at 7pm
WHERE: WHYY, Independence Mall West, 150 N. 6th Street, Philadelphia, PA 19106
WHO: Moderator Eric Marcus, Panelists Eliza Byard (Executive Director of GLSEN, Malcolm Lazin, Chair of the 50th Anniversary Celebration, longtime activist and LGBT historian, Michael Long, Ph.D., editor of "Gay Is Good, The Life and Letters of Gay Rights Pioneer Franklin Kameny," and Marc Stein, Ph.D., author of "City of Sisterly and Brotherly Loves: Lesbian and Gay Philadelphia, 1945-1972."
For more information, photographs and archival materials, go to www.lgbt50th.org and www.gaypioneers.com
To RSVP or for more information contact cathy@targetcue.com
-30-