Printer-friendly format
FOR IMMEDIATE RELEASE
CONTACT: Edward Amador, Eddie@equalityforum.com, 267-312-7077
"50th Anniversary Of LGBT Civil Rights Movement" Hires LGBT Communications Expert Cathy Renna To Spearhead Visibility Efforts of Historic Events July 4th in Philadelphia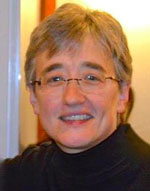 PHILADELPHIA, PA, February 24, 2015 - The organizers of the 50th anniversary of the lesbian, gay, bisexual and transgender civil rights movement today announced that they have brought on Cathy Renna, longtime communications expert, media activist and Senior Vice-President of TargetCue to spearhead the public relations and visibility components of the week-long celebration and commemoration of the first organized civil rights demonstrations on July 4, 1965. Target Cue LLC is a consultancy specializing in providing public relations and marketing communications services to not-for-profit organizations seeking to reach highly defined audiences.
"We are thrilled to have Cathy heading up our public relations and visibility efforts," said Executive Director Malcolm Lazin, longtime activist and LGBT historian. "Her vast experience in media relations, paired with her passion for LGBT history and connections to the community make her a perfect fit for the goals of the 50th anniversary," concluded Lazin.
"I am honored to be part of these historic 50th anniversary events that commemorate the beginnings of the organized LGBT civil rights movement," said Cathy Renna, whose media activism spans over two decades, who has been at the center of scores of historic moments in LGBT history and whose clients range from Supreme Court plaintiff Edie Windsor to the Family Acceptance Project to SAGE to the recent release of the groundbreaking book 'Trans Bodies, Trans Selves."
"As someone who has had the privilege of knowing Barbara Gittings, Lilli Vincenz, Frank Kameny and so many other historic figures in the LGBT community past and present, I am deeply committed to ensuring our stories are told to as large and diverse an audience as possible," continued Renna. "
The organized LGBT civil rights movement was launched when activists from New York, Washington D.C., and Philadelphia staged demonstrations for equality each Fourth of July from 1965 to 1969. When 40 activists picketed in front of Independence Hall in 1965, it was the largest demonstration for gay equality in world history.
Organized by pioneering gay activists Frank Kameny and Barbara Gittings, these "Annual Reminders" laid the groundwork for the Stonewall riot. After Stonewall, Kameny and Gittings suspended the Annual Reminders and turned their energies to the 1970 march from Greenwich Village to Central Park marking the first anniversary of Stonewall.
From July 2 to 5, 2015, in Philadelphia, the 50th Anniversary Celebration of the LGBT civil rights movement will feature panel discussions, a screening of the documentary film "Gay Pioneers" with special guests, fireworks, LGBT history exhibits, parties, concerts, the 50th Anniversary Ceremony and wreath laying at the Gay Pioneers historical marker and a street festival in the "gayborhood." Most events will take place on or near Independence Mall in Independence National Historical Park.
Speakers already include Bishop Gene Robinson, and the New York, Washington, D.C., and Philadelphia Gay Men's Choruses will perform. Many more speakers, panelists and award recipients, as well as information about events commemorating the historic events surround the 50th anniversary.
A four-day celebration of panels, parties and other events culminates with a historic ceremony on July 4th in front of Independence Hall, followed by a street festival and parties in Philadelphia's renowned "Gayborhood" on July 5th.
For more information, visit www.lgbt50th.org and www.gaypioneers.com.