National LGBT 50th Anniversary Ceremony
Saturday, July 4, 2:15 pm - 3:15 pm
Independence Hall
520 Chestnut Street
Philadelphia, PA 19106
MAP
FREE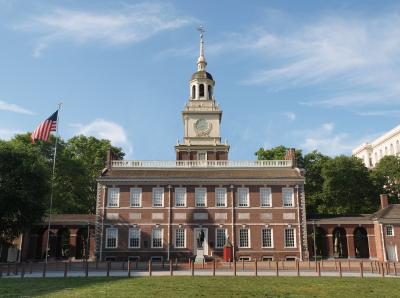 INTRODUCTION

Wanda Sykes, Master of Ceremonies

"America the Beautiful"

New York, Washington, D.C., and Philadelphia Gay Men's Choruses

Pledge of Allegiance

Eric Alva with John Holmes III

National Park Service Salute

BJ Dunn, Deputy Superintendent, Independence National Historical Park

COMMEMORATION

Gay Pioneers Tribute With Video of Pioneers Picketing

Jim Obergefell

"Somewhere Over the Rainbow"

Jonathan Allen and GoGo Morrow

Gay Pioneers Picketing Reenactment

40 picketers in front of stage, carrying messages from the 1965 Annual Reminder, attired in Gay Pioneers' dress code

Barbara Gittings Tribute With Video of Gittings

Kate Kendell

Frank Kameny Tribute with Video of Kameny

Malcolm Lazin

Acknowledgement of Guests

Wanda Sykes acknowledging Edie Windsor, Judy Shepard, Gay Pioneers, Walter Naegle and others seated on stage

CELEBRATION

Celebrate

Amanda Simpson

Religion

Bishop Gene Robinson

Workplace

Selisse Berry

Legislative

Jorge Valencia

Elected Officials

Aisha Moodie-Mills

Legal

Brad Sears

Future Challenge

Tamika Butler

LGBTQ Youth Picketers

Carrying current messages in front of stage

"True Colors"

New York, Washington, D.C., and Philadelphia Gay Men's Choruses

CLOSING

Wanda Sykes

Jonathan Allen (Entertainer)
Singer
Jonathan Allen made his television debut on "America's Got Talent" 2013 - Season 8. Since then, the operatic singer has been featured in magazines, on talk shows and on radio broadcasts. He has made numerous appearances since his departure from "America's Got Talent" and is writing and producing his first album. Allen came out at age 15. His parents were not supportive, and he was forced to move out at age 18 with just the clothes on his back. Shortly thereafter, he found his way to a musical career.

Eric Alva (Presenter)
Staff Sergeant, Retired
United States Marine Corps
Retired Staff Sergeant Eric Alva was the first marine wounded in the Iraq War and the first Iraq War veteran to receive a Purple Heart. An LGBT civil rights activist and spokesperson for the Human Rights Campaign, he crusaded against the "Don't Ask, Don't Tell" policy and stood beside President Obama as he signed the repeal into law. Alva has received much recognition for his service and activism, including the Heroes Among Us Award from People magazine and the 2011 Elizabeth Birch Equality Award for outstanding contributions to the LGBT community.

Selisse Berry (Presenter)
CEO
Out & Equal Workplace Advocates
Selisse Berry is the founder and chief executive officer of Out & Equal Workplace Advocates, the world's largest nonprofit organization specifically dedicated to creating safe and equitable workplaces for LGBT people. She is the editor of "Out & Equal at Work: From Closet to Corner Office," an anthology of personal stories of executive trailblazers who have transformed the workplace for LGBT people. She has received the Outstanding Hero Congressional Recognition from Congresswoman Nancy Pelosi; the Parks Award in Rome, Italy; and the KQED Local Heroes Award in San Francisco, California. Berry and her wife, Cynthia Martin, were legally married in California in 2008.

Tamika Butler, Esq. (Presenter)
Co-Chair
National Center for Lesbian Rights
Tamika Butler, Esq., serves as the board co-chair of the National Center for Lesbian Rights. She is the youngest co-chair in the organization's history. Butler is the executive director of the Los Angeles County Bicycle Coalition (LACBC), where she works to bring equity and inclusion to issues around active transportation. Previously, she served as the director of social change strategies at Liberty Hill, where she oversaw LGBTQ grant and giving strategies and integrated gender fluidity and sexual orientation into the organization's work. Before that, she served as the California director of Young Invincibles. Among other accomplishments, she led outreach to help LGBTQ millennials attain health care through the Affordable Care Act. Butler was also an attorney at the Legal Aid Society Employment Law Center and represented clients in equal employment opportunity cases.

John Holmes III (Presenter)
Descendant of George Washington
John (Jack) Holmes III is a descendant of Betty Washington Lewis, the sister of President George Washington. In 2015 Holmes married Hugh Eastwood, a lawyer, at their home in St. Louis. Holmes's lineage and marriage is particularly relavant and poignant. George Washington, in presiding over the Constitutional Convention, drafted the supreme law of the United States—the Constitution that promises equality, justice and liberty for all Americans.

Kate Kendell, Esq. (Presenter)
Executive Director
National Center for Lesbian Rights
Kate Kendell is the executive director of the National Center for Lesbian Rights (NCLR), a legal organization committed to advancing the civil and human rights of LGBT people and their families through litigation, public policy advocacy and public education. Previously, she served as the first staff attorney for the American Civil Liberties Union (ACLU) of Utah. As the primary spokesperson for NCLR, she has appeared on CNN and Good Morning America and in hundreds of other media outlets.

Malcolm Lazin (Presenter)
Chair
50th Anniversary Celebration
Malcolm Lazin is the chair of the 50th Anniversary Celebration of the LGBT Civil Rights Movement, the founder of LGBT History Month and the executive director of Equality Forum. Formerly a federal prosecutor, Lazin received the U.S. Attorney General's Distinguished Service Award and served as the chair of the Pennsylvania Crime Commission. He is the executive producer of three award-winning documentaries: "JIM IN BOLD," "Saint of 9/11" and "Gay Pioneers." Among other honors, Lazin received the National Education Association's 2005 Creative Leadership in Human Rights Award.

Cynthia MacLeod (Presenter)
Superintendent
Independence National Historical Park
Cynthia MacLeod has been the superintendent of Independence National Historical Park (INHP) since February 2008. Her responsibilities range from daily park operation and maintenance to development of new exhibits. Prior to joining INHP, she served as superintendent of Richmond National Battlefield Park and Maggie L. Walker National Historic Site. She began her career as an architectural historian with the National Park Service in Michigan.

Aisha C. Moodie-Mills (Presenter)
President and CEO
Victory Fund and Institute
Aisha Moodie-Mills is president and CEO of the Victory Fund and Institute, the nation's largest resource for openly LGBT public officials. She is also the co-host of "Politini," a weekly show on BLIS.FM. Among other honors, she was named one of the top "Forty Under 40" national LGBT leaders by The Advocate and one of The Root's 100 emerging and established leaders in the African-American community. Her work has been featured in numerous print media outlets, and she appears regularly as a political commentator on MSNBC. She was a key strategist for the campaign that brought marriage equality to the District of Columbia, where she and her wife, Danielle, were among the first to receive a marriage license. She has served as a political advisor, liaison and fundraiser to more than 50 members of Congress.

GoGo Morrow (Entertainer)
Singer/Songwriter
GoGo Morrow began singing in church at age 10 and went on to major in voice and dance at Philadelphia's high school for the Creative and Performing Arts. After college she worked as an assistant at Def Jam Recordings. She performed a two-year engagement as a background singer and dancer for Lady GaGa on the Emmy Award Winning "Monster Ball" Tour. She has opened for artists such as Brandy, Lauryn Hill, Common and Rick Ross, among others, and has performed during New York Pride. She is working on her debut album.

Walter Naegle (Special Guest)
Partner of the late Bayard Rustin
Walter Naegle is the partner of the late civil rights activist Bayard Rustin. Rustin was Martin Luther King Jr.'s chief organizer of the 1963 March on Washington and a leading proponent of Gandhian nonviolent social action. Naegle and Rustin were partners from 1977 until Rustin's death in 1987. Naegle is the executor and archivist of the Bayard Rustin Estate.
Jim Obergefell (Special Guest)
Plaintiff, Supreme Court Marriage Equality Case
Jim Obergefell is the plaintiff in the landmark marriage equality case Obergefell v. Hodges. A consolidation of four suits from different states, the case was argued before the Supreme Court in late April 2015 and decided on June 26, 2015, making same-sex marriage legal in all 50 states. The federal government recognized same-sex marriage in 2013 when it struck down the Defense of Marriage Act (DOMA) in the United States v. Windsor. The Obergefell case examined state legality. Obergefell and his partner, John, flew from Ohio to Maryland to get married legally as John was dying from ALS. A few months later, Obergefell sued to have his name listed as the surviving spouse on his partner's death certificate.

R. Bradley Sears (Presenter)
Executive Director of the Williams Institute
University of California - Los Angeles
Brad Sears is the executive director of the Williams Institute, a UCLA think tank that focuses on sexual orientation policy and law, and an adjunct professor at UCLA School of Law. A graduate of Harvard Law School, Sears founded the HIV Legal Checkup Project and served as the discrimination and confidentiality attorney for the HIV/AIDS Legal Services Alliance of Los Angeles (HALSA). In 2009 The Advocate magazine honored him on its "40 Under 40" list of exemplary people.

Judy Shepard (Special Guest)
Activist
In 1998 Judy and Dennis Shepard lost their 21-year-old son, Matthew, to murder motivated by anti-gay hate. Determined to prevent others from suffering their son's fate, they established the Matthew Shepard Foundation to champion social justice, diversity awareness and education, and equality for LGBT people. As the founding president, Judy Shepard also served as the organization's executive director until 2009. Originally trained as an educator, she speaks at engagements in the U.S. and abroad about how individuals and communities can make the world a more accepting place for everyone—regardless of difference. In her 2009 memoir, "The Meaning of Matthew," she explores her family's journey through the prosecution of her son's assailants and the ensuing media coverage as well as their continuing work to advance civil rights.

Amanda Simpson (Presenter)
Executive Director
U.S. Army Office of Energy Initiatives
Amanda Simpson, executive director of the U.S. Army Office of Energy Initiatives, is America's first openly transgender presidential appointee. She has worked in the aerospace and defense industry for over 30 years. In 2010 President Obama appointed Simpson to a post as senior technical advisor to the Department of Commerce's Bureau of Industry and Security. Prior to that, she served as deputy director in Advanced Technology Development at Raytheon Missile Systems. She holds degrees in physics, engineering and business administration, and is a certified flight instructor and test pilot.

Wanda Sykes (Master of Ceremonies)
Entertainer
Wanda Sykes is an Emmy Award-winning comedian, actor, writer and voice artist. Named one of the 25 funniest people in America by Entertainment Weekly, she was the first African-American and the first openly gay master of ceremonies for the White House Correspondents' Dinner. She won the 1999 Emmy for outstanding writing for "The Chris Rock Show," and in 2002 earned a second Emmy for her work on "Inside the NFL." Her television roles include "The New Adventures of Old Christine" and "Curb Your Enthusiasm." HBO has produced two Wanda Sykes comedy specials. Her film credits include "Evan Almighty," "Monster-In-Law" and "My Super Ex-Girlfriend," and she has provided the voice for characters in numerous animated films. She is also the author of "Yeah, I Said It," a collection of humorous essays.

Jorge Valencia (Presenter)
Executive Director & CEO
Point Foundation
Jorge Valencia is the Executive Director & CEO of Point Foundation, the nation's largest scholarship-granting organization for LGBTQ students of merit. Before joining Point, he served as the president and executive director of The Trevor Project, the leading national organization providing crisis intervention and suicide prevention services to LGBTQ youth. He continues to serve on The Trevor Project's Leadership Council. During the Clinton administration, Valencia served as the director of external affairs for the U.S. Small Business Administration (SBA), and represented the administration and SBA's interests at numerous speaking engagements and conferences.

Edith Windsor (Special Guest)
Plaintiff, Supreme Court DOMA Case
Edith (Edie) Windsor was the plaintiff in United States v. Windsor—the landmark civil rights case in which the U.S. Supreme Court struck down Section 3 of the Defense of Marriage Act (DOMA). Until the 2013 Windsor ruling, DOMA limited the federal definition of "spouse" to heterosexual unions, thus denying same-sex married couples federal marriage benefits. Since then, more than 40 federal district courts and four circuit courts have held that the U.S. Constitution allows for gay marriage. Windsor also broke ground working with mainframe computers. She joined IBM in 1958, where she earned the highest technical rank. In 1987 the National Computing Conference honored her as a Pioneer in Operating systems. Her 30 years of LGBT advocacy has touched many organizations and individuals, including Team New York at the Gay Games. A 2009 documentary, "Edie & Thea: A Very Long Engagement," chronicles Windsor's 42-year engagement and, finally, her marriage to Dr. Thea Spyer. ediewindsor.com