Printer-friendly format
FOR IMMEDIATE RELEASE
CONTACT: Cathy Renna, cathy@targetcue.com, 917-757-6123
Aisha Moodie-Mills, President of Victory Fund, Elected Officials Presenter at National LGBT 50th Anniversary Ceremony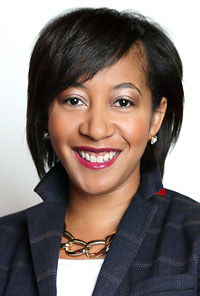 April 27, 2015, Philadelphia, PA - The organizers of the National LGBT 50th Anniversary Celebration (July 2 to 5) today announced that Aisha Moodie-Mills, President and CEO, Victory Fund and Institute, will be a presenter at the National LGBT 50th Anniversary Ceremony at Independence Hall on July 4th. At the ceremony she will honor the history of openly LGBT elected officials.

The National LGBT 50th Anniversary Celebration will commemorate the Gay Pioneers, celebrate 50 years of civil rights progress, and address future challenges. The five issues symbolizing civil rights progress are religion, legal, workplace, legislative, and elected officials. "Harvey Milk to U.S. Senator Tammy Baldwin represent our quest for a place at the table. No organization has done more to bring about our representation in city halls, state legislatures, and Congress than the Victory Fund. We are thrilled that the Victory Fund's dynamic new leader Aisha Moodie-Mills will be the elected officials presenter," said Malcolm Lazin, Chair of the National LGBT 50th Anniversary Celebration.

Aisha C. Moodie-Mills is President and CEO at the Victory Fund and Institute, the nation's largest resource for electing openly LGBT public officials. Prior to joining Victory, Aisha was Senior Fellow and Director of the FIRE Initiative at the Center for American Progress, where her work explored the intersections of race, class, and sexuality. She is also the host of "Politini," a weekly politics and pop culture show on BLIS.FM. She has been recognized as one of the top "Forty Under 40" national LGBT leaders by The Advocate and one of The Root's 100 emerging and established leaders in the African American community.
Aisha has served as a political advisor, private-sector liaison, and fundraiser to more than 50 members of Congress, including six senators and the Congressional Black Caucus. Prior to her work at American Progress, she was the president of Synergy Strategy Group, a boutique fundraising and political consulting firm where she raised millions of dollars for progressive candidates and advocacy organizations while helping amplify their voice in the public policy arena and expand their political reach.

The organized LGBT civil rights movement was launched when activists from New York, Washington D.C., and Philadelphia staged demonstrations for equality each Fourth of July from 1965 to 1969. When 40 activists picketed in front of Independence Hall in 1965, it was the largest demonstration for gay equality in world history.

Organized by the father and mother of the LGBT civil rights movement, Frank Kameny and Barbara Gittings, these "Annual Reminders" laid the groundwork for the Stonewall riot in 1969. After Stonewall, Kameny and Gittings suspended the Annual Reminders and turned their energies to the 1970 march from Greenwich Village to Central Park marking the first anniversary of Stonewall.

From July 2 to 5, in Philadelphia, the National LGBT 50th Anniversary Celebration includes panels, Gay Pioneers screening, fireworks, daily parties, LGBT history exhibits, concerts, National Interfaith Service, wreath laying at the Gay Pioneers historic marker, and street festival in the gayborhood with the highlight the one-hour LGBT 50th Anniversary Ceremony on a large stage in front of Independence Hall on July 4th.

There is no registration fee and most programs are fee and held on or near Independence Mall.

For more information, visit www.lgbt50th.org and www.gaypioneers.com
Don't forget to like us on Facebook and follow us on Twitter!
Use the Hashtags #LGBT50th & #LGBThistory to join the conversation.