Printer-friendly format
FOR IMMEDIATE RELEASE
CONTACT: Cathy Renna, cathy@targetcue.com, 917-757-6123
Sergeant Eric Alva, First American Marine Injured In Iraq War And Advocate For "Don't Ask Don't Tell" Repeal To Lead Pledge Of Allegiance At LGBT 50th Anniversary Ceremony July 4, 2015 - Independence Hall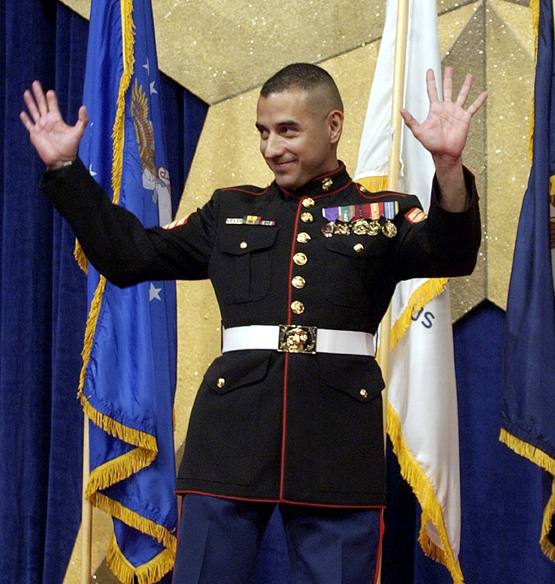 March 30, 2015, Philadelphia, PA- The organizers of the 50th Anniversary Celebration of the Lesbian, Gay, Bisexual and Transgender (LGBT) civil rights movement today announced that Staff Sergeant Eric Fidelis Alva, the first American seriously injured in the Iraq War on March 21, 2003, will lead the Pledge of Allegiance at the July 4th ceremony at Independence Mall. Alva was in charge of 11 Marines in a supply unit when he stepped on a land mine and lost his right leg and was one of many openly gay service members demanding the repeal of the "Don't Ask Don't Tell" policy.
The Pledge of Allegiance will follow "America the Beautiful" sung by subsets of the New York, Washington, DC and Philadelphia Gay Men's Choruses. "Fifty years ago, the Gay Pioneers from NY, DC and Philadelphia strategically chose Independence Hall each July 4th to launch the organized LGBT civil rights movement." stated Malcolm Lazin, Chair, 50th Anniversary Committee. With a National Park Service permit, the one-hour 50th Anniversary Ceremony will be held on a large stage directly in front of Independence Hall and start after the Congressionally mandated tapping of the Liberty Bell. "We are honored to have Eric Alva, recipient of the Purple Heart, openly gay Marine, leader in the repeal of Don't Ask, Don't Tell, and American Hero help begin the 50th Anniversary Ceremony by leading the Pledge of Allegiance," said Lazin.
"To me, history means telling the stories of our lives in this country - all of our lives," said Alva, "I am honored and humbled to lead the Pledge of Allegiance at the 50th anniversary ceremony as someone who served this country as a Marine with pride and distinction. When I say 'with liberty and justice for all' it is with the knowledge that every day we get a step closer to that being true for all LGBT people, and also with a great deal of pride that we are recognizing the legacy of pioneers like Frank Kameny and Barbara Gittings upon whose shoulders we stand," concluded Alva.
Alva, a native of San Antonio, Texas, grew up in a military family. He joined the United States Marine Corps in 1990 at the age of 19. He served for 13 years, including postings in Okinawa and Somalia. For much of his career, he was out to his fellow Marines. In February 2007, he joined Democratic Rep. Marty Meehan of Massachusetts and a bipartisan group of House members when they reintroduced the Military Readiness Enhancement Act, legislation that would repeal the "don't ask, don't tell" (DADT) policy regarding service in the U.S. armed forces by lesbian, gay and bisexual service members. On July 23, 2008, Alva testified about DADT before a subcommittee of the House Armed Services Committee.
Alva recently completed a Masters Degree in Social Work, sits on his local commission for Veteran Affairs and is a board member of Fiesta Youth, an organization that works with LGBT youth.
The organized LGBT civil rights movement was launched when activists from New York, Washington D.C., and Philadelphia staged demonstrations for equality each Fourth of July from 1965 to 1969. When 40 activists picketed in front of Independence Hall in 1965, it was the largest demonstration for gay equality in world history.
Organized by pioneering gay activists Frank Kameny and Barbara Gittings, these "Annual Reminders" laid the groundwork for the Stonewall riot in 1969. After Stonewall, Kameny and Gittings suspended the Annual Reminders and turned their energies to the 1970 march from Greenwich Village to Central Park marking the first anniversary of Stonewall.
From July 2 to 5, 2015, in Philadelphia, the 50th Anniversary Celebration of the LGBT civil rights movement will feature panel discussions, a screening of the documentary film "Gay Pioneers" with special guests, fireworks, LGBT history exhibits, parties, concerts, the 50th Anniversary Ceremony and wreath laying at the Gay Pioneers historical marker and a street festival in the "gayborhood." Most events will take place on or near Independence Mall in Independence National Historical Park.
A four-day celebration of panels, parties and other events culminates with a historic ceremony on July 4th in front of Independence Hall, followed by a street festival and parties in Philadelphia's renowned "Gayborhood" on July 5th.
For more information, visit www.lgbt50th.org and www.gaypioneers.com.