"Gay Pioneers" Screening With Special Guests
Friday, July 3, 6:00 pm - 7:30 pm
WHYY
150 North 6th Street
Philadelphia, PA 19106
MAP
FREE

A Collaboration With WHYY
Co-produced with PBS affiliate WHYY, this compelling documentary braids interviews with Frank Kameny, Barbara Gittings, Lilli Vincenz and other early activists with archival footage and FBI investigative reports. The screening of "Gay Pioneers" is followed by a discussion with special guests listed below.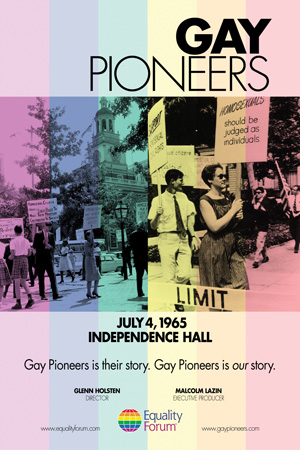 Tracy Baim (Moderator)
Editor in Chief
Windy City Times
Tracy Baim is an author and the publisher and executive editor at Windy City Times, which she cofounded in 1985. In 2014 she was inducted into the National Lesbian and Gay Journalists Association Hall of Fame. Baim's most recent book is "Barbara Gittings: Gay Pioneer." Her other books include "Gay Press, Gay Power: The Growth of LGBT Community Newspapers in America"; "Obama and the Gays: A Political Marriage"; and "Out and Proud in Chicago." Baim was executive producer of the lesbian film "Hannah Free," starring Sharon Gless and Scrooge & Marley. She is the creator of "That's So Gay!," an LGBT trivia game.

Eliza Byard (Panelist)
Executive Director
Gay, Lesbian and Straight Education Network (GLSEN)
Eliza Byard is the executive director of GLSEN. She has overseen groundbreaking efforts such as GLSEN's award-winning "Think B4 You Speak" Ad Council campaign and No Name-Calling Week, which the National School Boards Association declared "one of the most used and celebrated bullying prevention programs in the country." As GLSEN's primary spokesperson, she appears regularly on broadcast media, including AC360, ABC World News and National Public Radio. She serves on multiple boards and committees, including the Diversity and Inclusion Advisory Board for Sodexo.

Malcolm Lazin (Panelist)
Chair
50th Anniversary Celebration
Malcolm Lazin is the chair of the 50th Anniversary Celebration of the LGBT Civil Rights Movement, the founder of LGBT History Month and the executive director of Equality Forum. Formerly a federal prosecutor, Lazin received the U.S. Attorney General's Distinguished Service Award and served as the chair of the Pennsylvania Crime Commission. He is the executive producer of three award-winning documentaries: "JIM IN BOLD," "Saint of 9/11" and "Gay Pioneers." Among other honors, Lazin received the National Education Association's 2005 Creative Leadership in Human Rights Award.

Michael G. Long (Panelist)
Associate Professor, Author and Editor
Elizabethtown College
Michael G. Long is an associate professor of religious studies and peace and conflict studies at Elizabethtown College and the author or editor of many books, including "Gay Is Good: The Life and Letters of Gay Rights Pioneer Franklin Kameny" and "Martin Luther King Jr., Homosexuality, and the Early Gay Rights Movement." His work has been featured or reviewed in The New York Times, The Washington Post, The Los Angeles Times and many other newspapers and journals. Long blogs for the Huffington Post and has appeared on C-Span and National Public Radio.

Marc Stein (Panelist)
Professor and Author
San Francisco State University
Marc Stein is the Jamie and Phyllis Pasker Professor of History at San Francisco State University. An award-winning teacher, writer and editor, he is the author of "City of Sisterly and Brotherly Loves: Lesbian and Gay Philadelphia, 1945-1972"; "Sexual Injustice: Supreme Court Decisions from Griswold to Roe"; and "Rethinking the Gay and Lesbian Movement." He is also editor in chief of the Encyclopedia of Lesbian, Gay, Bisexual and Transgender History in America.