Printer-friendly format
FOR IMMEDIATE RELEASE
CONTACT: Cathy Renna, cathy@targetcue.com, 917-757-6123
Supreme Court Marriage Equality Plaintiff James Obergefell joins National 50th LGBT Anniversary Celebration
Obergefell To Be Presented With "Frank Kameny Award"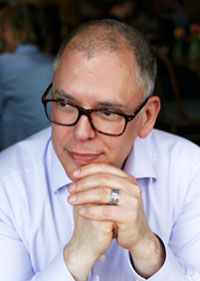 May 18, 2015, Philadelphia, PA. James Obergefell, the named plaintiff in the soon to be decided Supreme Court same-sex marriage equality case, Obergefell v. Hodges, will attend the National LGBT 50th Anniversary Celebration. He will receive the "Frank Kameny Award."
Obergefell's is the title case of the four consolidated marriage equality appeals heard before the Supreme Court in late April and expected to be decided on June 29 or 30, days prior to the National LGBT 50th Anniversary Celebration (July 2-5).
Said Jim Obergefell, "I'm humbled to be part of the marriage equality and LGBT civil rights movement. John and I—like any couple in love—made promises to love, honor, and protect each other. It's a privilege to honor my commitments to him by fighting for our marriage and the right of all Americans to marry."
James Obergefell, 48, and his partner John Arthur of Cincinnati, Ohio were together since 1992. In 2011, Arthur developed Lou Gehrig's disease (ALS), a fatal illness. As Arthur's condition deteriorated they chartered a medically equipped plane to fly from Ohio to Maryland, where same-sex marriage is authorized. They were married on the plane in Maryland. When they returned to Ohio they filed suit after learning that Arthur's death certificate would not list Obergefell as his spouse. The Ohio Attorney General opposed the request. The federal lawsuit made its way to the U.S. Supreme Court.
"Obergefell v. Hodges will be remembered as the movement's most important legal case. We are deeply honored that Jim Obergefell will be at the National LGBT 50th Anniversary Celebration. His and his partner's fortitude to fight to have their relationship recognized will result in a historic civil rights decision for our nation," said Malcolm Lazin, Chair, National LGBT 50th Anniversary.
James Obergefell will be on stage for the National LGBT 50th Anniversary Ceremony on July 4th at Independence Hall and will be the guest of honor at the VIP Cocktail Party following the Ceremony. At the VIP Cocktail Party, James Obergefell will receive the Frank Kameny Award.
The organized LGBT civil rights movement was launched when activists from New York, Washington D.C., and Philadelphia staged demonstrations for equality each Fourth of July from 1965 to 1969. When 40 activists picketed in front of Independence Hall in 1965, it was the largest demonstration for gay equality in world history.
Organized by pioneering gay activists Frank Kameny and Barbara Gittings, these "Annual Reminders" laid the groundwork for the Stonewall riot in 1969. After Stonewall, Kameny and Gittings suspended the Annual Reminders and turned their energies to the 1970 march from Greenwich Village to Central Park marking the first anniversary of Stonewall.
From July 2 to 5, in Philadelphia, the National LGBT 50th Anniversary Celebration includes panels, Gay Pioneers screening, fireworks, daily parties, LGBT history exhibits, concerts, National Interfaith Service, wreath laying at the Gay Pioneers historic marker, and street festival in the gayborhood with the highlight the one-hour LGBT 50th Anniversary Ceremony on a large stage in front of Independence Hall on July 4th.
There is no registration fee and most programs are fee and held on or near Independence Mall.
For more information, visit www.lgbt50th.org and www.gaypioneers.com