Printer-friendly format
FOR IMMEDIATE RELEASE
Contact: Cathy Renna, 917-757-6123, cathy@targetcue.com
NOTE: to be credentialed for events please contact cathy@targetcue.com as soon as possible
Jim Obergefell - Supreme Court Marriage Equality Hero
Featured Speaker At National LGBT 50th Anniversary Ceremony Independence Hall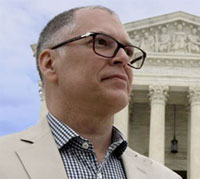 JUNE 29, 2015, Philadelphia, PA - Organizers of the National LGBT 50th Anniversary Celebration, from July 2 to 5, announced that Jim Obergefell will be a featured speaker at the National LGBT 50th Anniversary Ceremony at Independence Hall July 4th.
Said Jim Obergefell: "I am honored to pay tribute to the Gay Pioneers at the National LGBT 50th Anniversary Ceremony on July 4th at Independence Hall. Selected 50 years ago by the Gay Pioneers for galvanizing demonstrations, Independence Hall is the iconic location for our community and allies to celebrate 50 years of nationwide LGBT civil rights progress."
Said Malcolm Lazin, Chair, National LGBT 50th Anniversary Celebration: "We are honored to have Jim Obergefell participate. Jim is a historic figure in our 50 year aspiration for equality."
The organized LGBT civil rights movement was galvanized when activists from New York, Washington, D.C., and Philadelphia staged demonstrations at Independence Hall for equality each Fourth of July from 1965 to 1969. When 40 activists picketed in front of Independence Hall in 1965, it was the largest demonstration for gay equality in world history.
Organized by Frank Kameny and Barbara Gittings, the father and mother of the LGBT civil rights movement, these "Annual Reminders" laid the groundwork for the Stonewall riot in 1969. After Stonewall, the Gay Pioneers suspended the Annual Reminders and turned their energies to help organize the 1970 march from Greenwich Village to Central Park marking the first anniversary of Stonewall.
There is no registration fee and most programs are free.
For more information, visit www.lgbt50th.org and www.gaypioneers.com.