Printer-friendly format
FOR IMMEDIATE RELEASE
CONTACT: Cathy Renna, cathy@targetcue.com, 917-757-6123
Washington Family Descendent John A. Holmes III To Participate in National LGBT 50th Anniversary Ceremony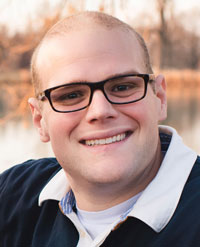 PHILADELPHIA, PA, May 4, 2015 - The organizers of the National LGBT 50th Anniversary Celebration (July 2 to 5) today announced that John Holmes III, (Jack,) a descendant of President George Washington, would participate in the LGBT 50th Anniversary Ceremony at Independence Hall on July 4th, including joining Marine Sergeant Eric Alva in leading the Pledge of Allegiance.
Jack Holmes is a descendant of Betty Washington Lewis, the sister of President George Washington. Earlier this year Jack married Hugh Eastwood, a lawyer, at their home in St. Louis. The Hon. Jean C. Hamilton, a senior United States district judge appointed by President George H.W. Bush, officiated at their wedding.
Said Malcolm Lazin, chair of the National LGBT 50th Anniversary Celebration: "We are honored to have Jack join us given his unique ancestry as a descendant of our Nation's first President. General Washington led us in the Revolutionary War and presided over the Constitutional Convention. The Constitution promises equality for all Americans. Jack's marriage to Hugh symbolizes the equality, liberty and pursuit of happiness embodied in the Declaration of Independence and Constitution."
Said Jack Holmes: "It will be a thrill to stand where my longtime ancestors once stood, attend services in the church where President George Washington did and participate in the ceremony honoring our gay pioneers. My husband Hugh and I are proud to join as members of one of America's most historical families and as members of the LGBT community in honoring our collective American civil rights history."
The National LGBT 50th Anniversary Celebration will commemorate the Gay Pioneers, celebrate 50 years of civil rights progress, and address future challenges. The five issues symbolizing civil rights progress are religion, legal, workplace, legislative, and elected officials.
The organized LGBT civil rights movement was launched when activists from New York, Washington D.C., and Philadelphia staged demonstrations for equality each Fourth of July from 1965 to 1969. When 40 activists picketed in front of Independence Hall in 1965, it was the largest demonstration for gay equality in world history.
Organized by the father and mother of the LGBT civil rights movement, Frank Kameny and Barbara Gittings, these "Annual Reminders" laid the groundwork for the Stonewall riot in 1969. After Stonewall, Kameny and Gittings suspended the Annual Reminders and turned their energies to the 1970 march from Greenwich Village to Central Park marking the first anniversary of Stonewall.
From July 2 to 5, in Philadelphia, the National LGBT 50th Anniversary Celebration includes panels, Gay Pioneers screening, fireworks, daily parties, LGBT history exhibits, concerts, National Interfaith Service, wreath laying at the Gay Pioneers historic marker, and street festival in the gayborhood with the highlight the one-hour LGBT 50th Anniversary Ceremony on a large stage in front of Independence Hall on July 4th.
There is no registration fee and most programs are fee and held on or near Independence Mall.
For more information, visit www.lgbt50th.org and www.gaypioneers.com
photo by Ashley Brooke Studios