Printer-friendly format
FOR IMMEDIATE RELEASE
CONTACT: Cathy Renna, cathy@targetcue.com, 917-757-6123
Singer Jonathan Allen and Performer GoGo Morrow Join National LGBT 50th Anniversary Celebration
Allen and GoGo to Perform "Somewhere Over The Rainbow," National LGBT 50th Anniversary Ceremony at Independence Hall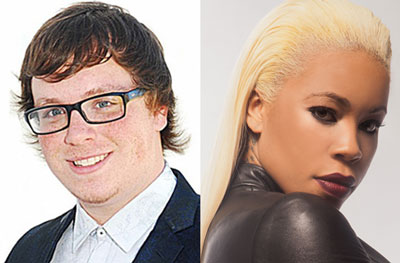 June 1, 2015, Philadelphia, PA - Organizers of the National LGBT 50th Anniversary Celebration today announced that Jonathan Allen, who was a semi-finalist on "America's Got Talent" and singer-songwriter/performer GoGo Morrow, who toured with Lady Gaga, will sing a duet of "Somewhere Over the Rainbow" during the salute to the Gay Pioneers at the National LGBT 50th Anniversary Ceremony on July 4th. Jonathan Allen will also perform at the National Interfaith Service. Allen was thrown out of his home on his 18th birthday when he came out to his family.

Said Malcolm Lazin, chair of the National LGBT 50th Anniversary Celebration: "We are thrilled that Jonathan and GoGo will bring their voices to the National LGBT 50th Anniversary Ceremony. These young Americans represent the future of our movement. Jonathan is a role model to young people who struggle with family rejection and bullying. GoGo is among the legions of young allies who support our equality."

Jonathan made his television debut on "America's Got Talent" season 8, which can be seen here: https://youtu.be/5LdpucCIbE8

Jonathan stated: "I am very excited to be a part of the National LGBT 50th Anniversary Celebration. My story is not uncommon for LGBT youth. It is encouraging to know that out of oppression, something beautiful has transpired."

Allen is from Lawrenceburg, Tennessee. As a child, he used music as an escape. He liked classical music, especially Pavarotti. Jonathan plays piano and sings different styles of music.

GoGo Morrow began singing in church at age 10. After graduating from college, she worked as an assistant at Def Jam. GoGo had a 2-year engagement as a background singer and dancer for Lady GaGa on the Emmy Award Winning "Monster Ball" Tour. Among other events, she has performed during New York Pride.

The organized LGBT civil rights movement was galvanized when activists from New York, Washington, D.C., and Philadelphia staged demonstrations at Independence Hall for equality each Fourth of July from 1965 to 1969. When 40 activists picketed in front of Independence Hall in 1965, it was the largest demonstration for gay equality in world history.

Organized by Frank Kameny and Barbara Gittings, the father and mother of the LGBT civil rights movement, these "Annual Reminders" laid the groundwork for the Stonewall riot in 1969. After Stonewall, the Gay Pioneers suspended the Annual Reminders and turned their energies to help organize the 1970 march from Greenwich Village to Central Park marking the first anniversary of Stonewall.

From July 2 to 5, in Philadelphia, the National LGBT 50th Anniversary Celebration includes panels, "Gay Pioneers" screening, fireworks, daily parties, six LGBT history exhibits, concerts, National Interfaith Service, wreath laying at the Gay Pioneers historical marker, and a street festival in the gayborhood with the highlight the one-hour National LGBT 50th Anniversary Ceremony on a large stage in front of Independence Hall on July 4th with Wanda Sykes as the Master of Ceremonies.

There is no registration fee and most programs are free.

For more information, visit www.lgbt50th.org and www.gaypioneers.com.
Don't forget to like us on Facebook and follow us on Twitter!
Use the Hashtags #LGBT50 & #LGBThistory to join the conversation.