50th Anniversary VIP Lunch
Saturday, July 4, 11:30 am - 2:00 pm
Independence Visitor Center
1 North Independence Mall West
Philadelphia, PA 19106
MAP
Tickets: $250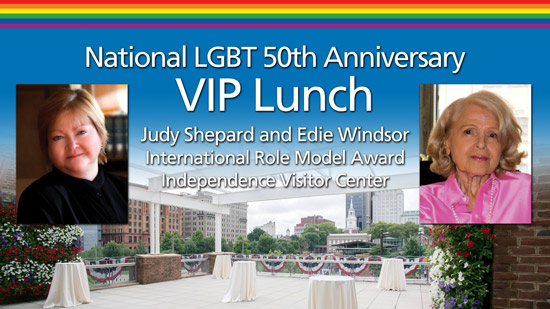 Before the official 50th Anniversary Ceremony and festivities begin on July 4th, enjoy a celebratory lunch in the Liberty View Ballroom at the Independence Vistor's Center. Judy Shepard and Edie Windsor will receive the 20th Annual International Role Model Award.
For additional information,contact Eddie Amador at 215-732-3378
or e-mail eddie@equalityforum.com
Sponsored by

Special Invited Guests

Eric Alva
First American soldier injured in the Iraq War

Selisse Berry
CEO, Out & Equal Workplace Advocates

Jack Ginter
Senior Managing Director and Executive Vice President
Abbot Downing, A Wells Fargo Business

Jack Holmes III
Descendant of George Washington

Kate Kendell
Executive Director, NCLR

Aisha Moodie-Mills
President, Gay & Lesbian Victory Fun

Walter Naegle
Partner of the late Bayard Rustin

Bishop Gene Robinson
First openly gay Episcopal bishop

Brad Sears
Executive Director, The Williams Institute

Amanda Simpson
Highest-ranking transgender federal employee

Lt. Gov. Mike Stack of Pennsylvania

Senator Tony Williams
Pennsylvania - 8th District

Jorge Valencia
Executive Director & CEO, Point Foundation

Jack Ginter (Special Guest)
Senior Managing Director and Executive Vice President
Abbot Downing, A Wells Fargo Business
Jack Ginter is senior managing director and executive vice president of Abbot Downing, A Wells Fargo Business. He serves as the senior regional managing director for the organization, overseeing all five regional managing directors, the National Planning Practice, and the Family Dynamics and Education team. Ginter has a long history in the banking industry in both corporate lending and wealth management. He joined Calibre/Wells Fargo Family Wealth in 2008 as the regional managing director in the Philadelphia office.

Judy Shepard (20th Annual International Role Model Award Recipient)
Activist
In 1998 Judy and Dennis Shepard lost their 21-year-old son, Matthew, to murder motivated by anti-gay hate. Determined to prevent others from suffering their son's fate, they established the Matthew Shepard Foundation to champion social justice, diversity awareness and education, and equality for LGBT people. As the founding president, Judy Shepard also served as the organization's executive director until 2009. Originally trained as an educator, she speaks at engagements in the U.S. and abroad about how individuals and communities can make the world a more accepting place for everyone—regardless of difference. In her 2009 memoir, "The Meaning of Matthew," she explores her family's journey through the prosecution of her son's assailants and the ensuing media coverage as well as their continuing work to advance civil rights.

Lieutenant Governor Michael J. Stack (Special Guest)
Presenting the International Role Model Award to Judy Shepard
Mike Stack is Pennsylvania's 33rd lieutenant governor. He was elected in November 2014 and inaugurated along with Governor Tom Wolf on January 20, 2015. In addition to presiding over the Pennsylvania Senate, he also chairs the Board of Pardons and was appointed by the governor to chair the Pennsylvania Emergency Management Council. He is a member of the Pennsylvania Military Community Enhancement Commission and was chosen chairman by the other commissioners. He also chairs the Local Government Advisory Commission.
State Senator Anthony H. Williams (Special Guest)
Presenting the International Role Model Award to Edie Windsor
Tony Williams is a Pennsylvania state senator of the 8th District, one of state's most populous. He serves as the minority whip, the Democratic chairman of the State Government Committee, and is a member of multiple other committees. He also sits on the Pennsylvania Council on the Arts and various community boards. Williams entered politics at age 31. He served as state representative for the 191st District before becoming a state senator in 1998. He is a 2015 Philadelphia mayoral candidate.

Edith Windsor (20th Annual International Role Model Award Recipient)
Plaintiff, Supreme Court DOMA Case
Edith (Edie) Windsor was the plaintiff in United States v. Windsor—the landmark civil rights case in which the U.S. Supreme Court struck down Section 3 of the Defense of Marriage Act (DOMA). Until the 2013 Windsor ruling, DOMA limited the federal definition of "spouse" to heterosexual unions, thus denying same-sex married couples federal marriage benefits. Since then, more than 40 federal district courts and four circuit courts have held that the U.S. Constitution allows for gay marriage. Windsor also broke ground working with mainframe computers. She joined IBM in 1958, where she earned the highest technical rank. In 1987 the National Computing Conference honored her as a Pioneer in Operating systems. Her 30 years of LGBT advocacy has touched many organizations and individuals, including Team New York at the Gay Games. A 2009 documentary, "Edie & Thea: A Very Long Engagement," chronicles Windsor's 42-year engagement and, finally, her marriage to Dr. Thea Spyer. ediewindsor.com